Politics, Government & Current Affairs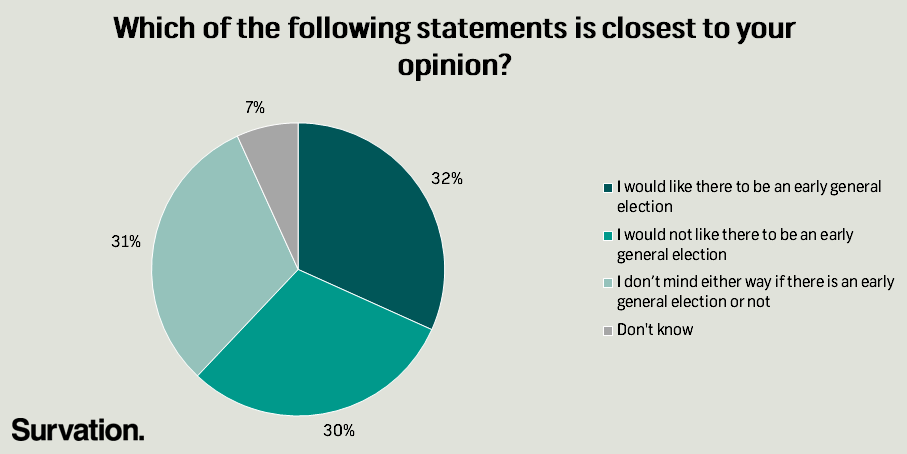 New Polling: Limited appetite for early general election despite Brexit negotiations
New data from Survation shows there is limited appetite for an early general election, despite key figures in the Labour Party and the Liberal Democrats demanding an early election to give Theresa May's government a new mandate.
Yesterday, Theresa May said it was her intention to trigger Article 50 by the end of March 2017. Respondents in our latest poll were asked to give their opinion on an early election – assuming the Government's Brexit plans were to be carried out before 2020.
Excluding those who said they didn't know, responses were split almost equally between those who want an early general election given Brexit negotiations (32%), those who would not want one (30%) and those who didn't mind either way (31%).
Elsewhere in the poll:
Leave voters split such that more would not like an early general election (36%)than those who would (26%). Remain voters split the other way, with 41% who would want an early general election compared to 28% who wouldn't.
Opinions were mixed across all parties with Conservative voters least in favour of an early general election (48%) and Labour party voters most in favour of one(46%).
Commenting on the findings, Chief Executive Damian Lyons-Lowe said:
"Despite the calls from some in Westminster for Theresa May to call an early general election, this poll shows there is limited public appetite currently for an early vote. It will be interesting to see if this changes over the coming months after Article 50 is triggered and the terms of the UK's Brexit become clearer."
Survation polled 1,013 UK adults aged 18+ between 22nd-23rd September 2016. Full tables are available here
---
< Back